Hamam cloth
You can now enjoy this luxurious and trendy Hamam cloths at home. Naturally 100% cotton, available in two sizes and in the traditional 400 grams per square meter weight quality.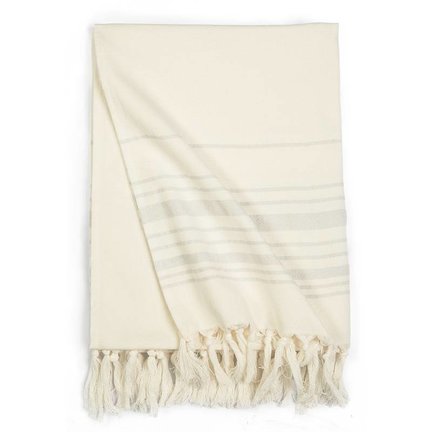 Hamam cloth
Are you looking for a bathroom linen? Then take a look at our extensive and very affordable bath textiles range! At Fine 2 Sleep you can view hamam cloths online and order safely. Besides hammam towels, we offer various other types of bathroom textiles.
The hammam range from Fine 2 sleep consists of beautiful solid colors, with subtle patterns and a combination of materials. Through the description of this category, we hope to give you enough information to order a hamam cloth as desired, online. It is also possible, on request, to view and purchase your order at our collection location in Ridderkerk. You can choose from our range, consisting of various sizes.
Material hamam cloth
The hamam cloths in our range are made of high quality. The 100% cotton hammam towels are ideal for a sauna, spa or a day at the beach. The cloths originate from Turkey and were mainly used in bathhouses and saunas as shawls and / or dry towels. Cotton is a very fine material that has many positive properties and absorbs moisture well. Because of this it has a long life and is very nice to use. If you wash a hamam towel before use with a dash of vinegar, this ensures even better moisture absorption and durability!
There are many advantages to a hammam towel, since they are very light and therefore ideal to take with you on a trip. The cloths are lightweight and take up very little space in a suitcase, backpack or beach bag for example. In addition, the cloths dry very quickly and you can easily pack them again after use. This makes a hammam towel very suitable for a day to the park for example, so you easily take a 'rug' to sit with, without being awkwardly large and heavy. The hamam towels in our range contain beautiful solid colors and a terry cloth. The colors are neutral but very colorful, for a cheerful look! The terry cloth also ensures good moisture absorption and also feels very nice and soft on the skin.
Measure
The hamam towels in our range are available in the following size:
This size is ideal for being able to lie down or sit comfortably. But also very suitable as a decorative rug for the couch for example. Once it cools down in the house, you can snuggle under the cloth and warm up.
Hamam towel features
A number of positive attributes are attached to a hamam cloth, which we have listed for you.
A hamam cloth absorbs moisture very well and is quickly dry after use.
The cloths are very thin and therefore light, ideal for a suitcase, backpack, beach bag or the like.
The cloths are very smooth and easy to use.
A hammam towel is versatile and can be used on the beach, in the sauna and as a seat cover in the park.
In addition, a hammam can also function very well as a rug on the couch and act as a nice accessory to bring a little more color to your home.