Langzaamaan begint het zonnetje weer te schijnen en voor je het weet staan de warmere dagen alweer voor de deur. Katoen satijn is een ideaal materiaal om de verkoeling op te zoeken tijdens de nachtrust. Katoen satijn voelt heerlijk zacht en comfortabel aan. Lees snel verder om dé 5 redenen te achterhalen, waarom het kiezen voor een katoen satijnen dekbedovertrek een goede keuze is!
5 redenen om te kiezen voor een katoen satijnen dekbedovertrek 
Om deze blog te beginnen leggen wij eerst in het kort uit wat katoen satijn voor materiaal is. Katoen satijn dankt zijn 'satijn' aan de manier van weven. Een katoen satijnen dekbedhoes is gemaakt van 100% katoen, satijn geweven. Een satijnen dekbedovertrek bevat bijvoorbeeld vier inslagdraden en één kettingdraad. Door deze techniek toe te passen, kan er zeer licht geweven worden, waardoor de kenmerkende luchtige zachte kwaliteit ontstaat. Katoen satijn wordt dus verkregen door een bepaalde weving van katoen toe te passen. Er zijn diverse redenen waarom katoen satijn een perfect materiaal is voor beddengoed, deze staan hieronder puntsgewijs uitgelegd:
1.    Luxueuze uitstraling


Katoen satijn bestaat uit beddengoed van een iets hoger segment. Doordat de garens in satijnbinding zeer dicht op elkaar zijn geweven, is de bovenkant van de stof glanzend. Deze subtiele glans zorgt voor een luxueuze uitstraling. Dit is ook een van de redenen dat katoen satijn niet weg te denken is uit hotels, bed & breakfasts en dergelijke. Het materiaal, met prachtige glans, zorgt ook voor zeer gedetailleerde prints en een hoge kwaliteit. Iedere print op dit overtrek, wordt door de lichte glans nog mooier en vormt een eyecatcher in de slaapkamer!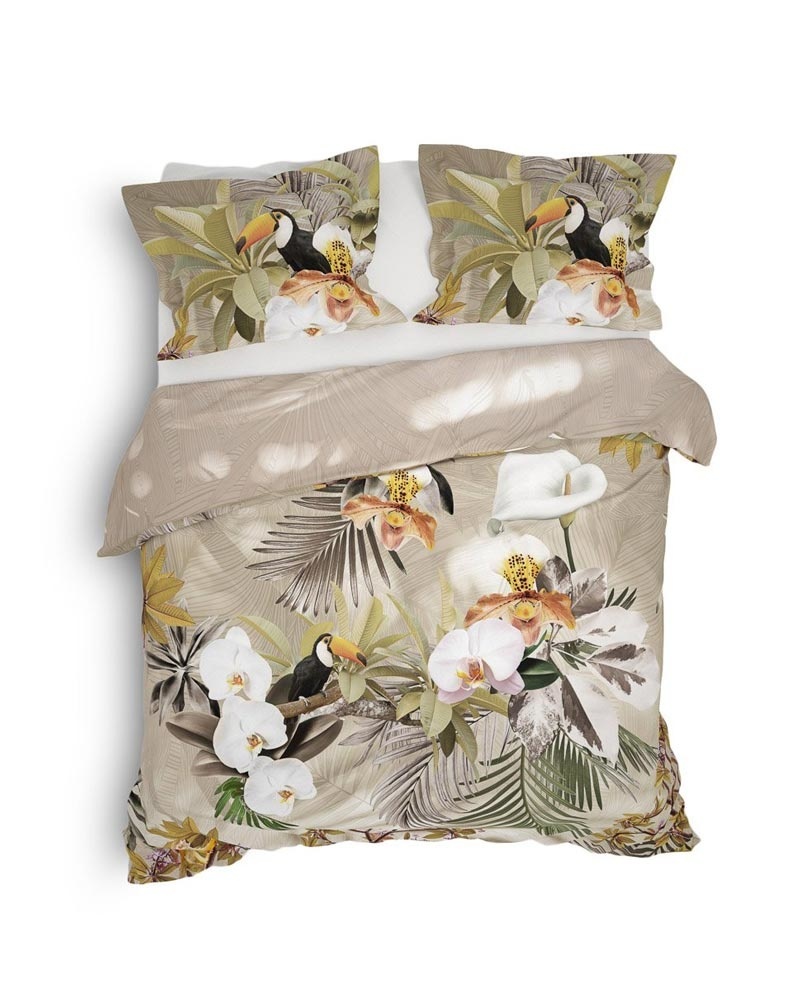 2.    Verkoelend
Katoen satijn is een zeer fijn, zacht en comfortabel materiaal om onder te slapen. Het materiaal staat erom bekend, zeer verkoelend te zijn en dus een goede nachtrust garandeert, zeker tijdens de warmere dagen in de zomer bijvoorbeeld. Katoen satijn heeft zijn verkoelende karakter voor een groot deel te danken aan het gebruik van het materiaal katoen. Daardoor neemt het vocht ook snel op en ademt katoen satijn zeer goed.
3.    Kreukvrij
Een overtrek na het wassen niet hoeven strijken? Dat klinkt toch ideaal! Door de speciale wevingstechniek, waardoor het materiaal katoen satijn ontstaat,  wordt een overtrek kreukvrij. De gladde soepele stof valt als het ware zo weer in de plooi. Wanneer dit netjes wordt uitgehangen, hoeft er niet gestreken te worden en is de glanzende stof weer klaar voor gebruik, zonder kreukels of dergelijke.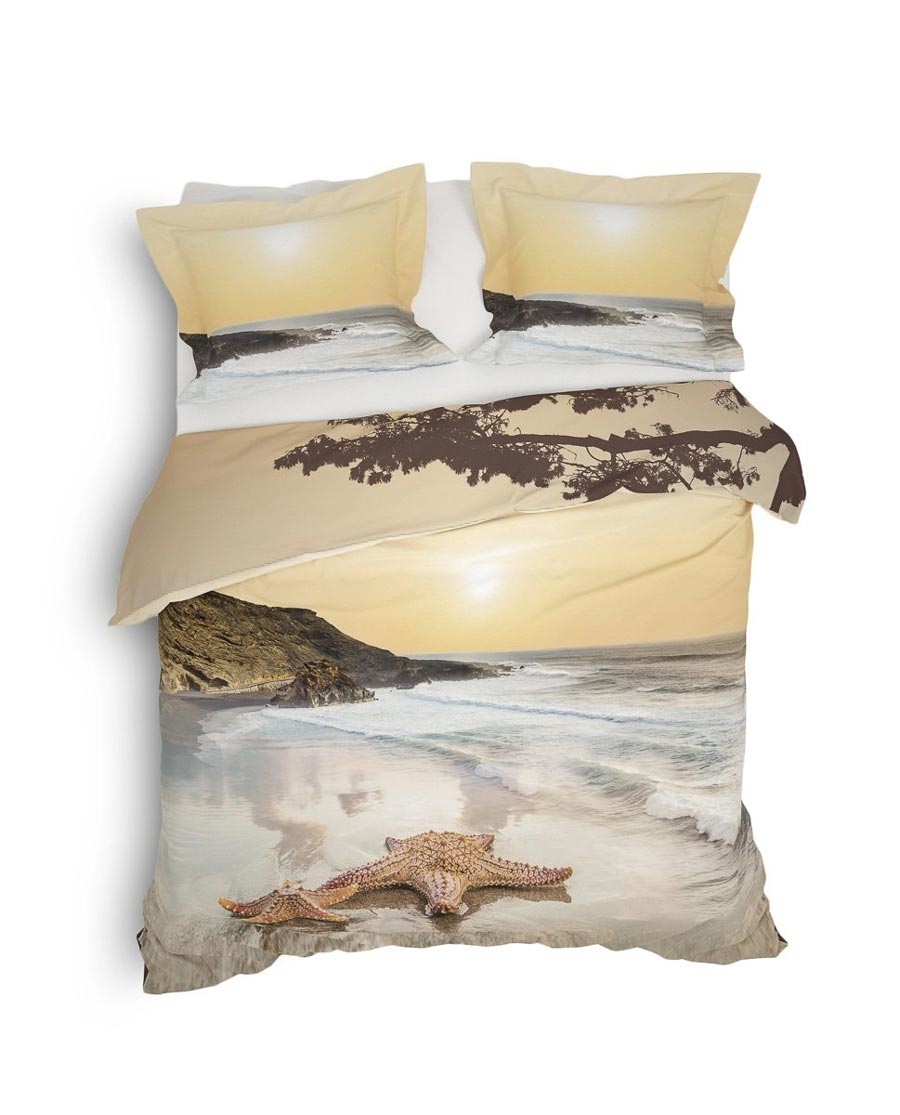 4.    Hygiënisch
De stof katoen satijn is zeer hygiënisch. Dan vraag je je misschien af waar dit op gebaseerd is? Wij leggen graag uit waarom wij zo enthousiast zijn over de hygiëne van dit materiaal. Een katoen satijnen overtrek (katoen satijnen hoeslaken, kussensloop etc.) kan in bijna alle gevallen gewassen worden op 60 graden. Waar andere materialen dekbedovertrekken soms maar op 40 graden kunnen worden gewassen, steekt katoen satijn erbovenuit met zijn 60 graden! Daarnaast is dit materiaal vrijwel altijd geschikt voor de droger, waarbij de laatste vuilresten en dergelijke eruit worden 'gedroogd'. Tijdens je slaap verlies je soms wel liters zweet, wel zo fijn dus als je een volgende keer weer onder een fris en schoon overtrek kan kruipen.
5.    Goed voor huid en haar
Tot slot zijn wij bij het laatste punt aangekomen, ook niet geheel onbelangrijk. Een overtrek van katoen satijn is namelijk ook goed voor de huid en het haar.  Waarom dit is? Door de satijnweving! Satijnen beddengoed zorgt namelijk voor glanzend zijdezacht haar, minder rimpels en het kan tot een zuivere huid leiden. Dit komt door de zachte glans die ontstaan is door de satijnbinding. Daardoor glijd je als het ware over het beddengoed heen en krijg je huid geen kans om te 'kreuken' en je haar geen kans om te gaan klitten. Ideaal toch?!
Kortom; katoen satijn is een van de fijnste stoffen voor beddengoed. Het bevat de vele positieve eigenschappen van katoen en is door zijn speciale weving niet alleen mooi voor het oog, maar ook goed voor huid en haar!
Heb je na het lezen van bovenstaande blog nog vragen of opmerkingen? Neem dan contact op met onze klantenservice, daar helpen wij je graag verder met het maken van de juiste materiaalkeuze!