4 Seasons Duvet
Looking for a four seasons duvet? Then you are at the right place at Fine 2 sleep! With a 4 seasons duvet you can sleep with the right temperature all year round. A good night's sleep is therefore guaranteed!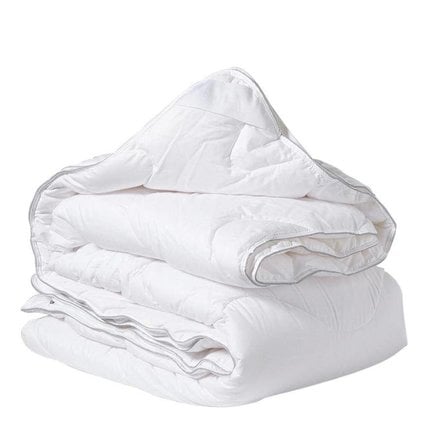 4 seasons duvet
A four seasons duvet offers you ultimate sleeping comfort. A 4 seasons duvet is known to ensure good sleeping temperature during all seasons. With this type of duvet you have two separate parts that can be combined into one thick winter duvet. The two parts consist of a spring / autumn part, the other part is a summer duvet. In winter, a 4 seasons duvet offers a quick warmth, while the summer part during high temperatures ensures cooling.
Why buy a 4 seasons duvet?
A duvet for several seasons is in other words a very good investment. With a 4-season duvet you do not have to worry about feather covers and lighter duvets. You can use the same duvet throughout the year. In this way you save that you would otherwise have spent on expensive duvets for example.
4 seasons duvets are also very easy to maintain. Certain four seasons duvets can be washed easily and quickly in the washing machine. You no longer need to have duvets cleaned by dry cleaning - which often has a high price. A 4 seasons duvet dries quickly. It is advisable to wash a four seasons duvet at least twice - preferably four times a year. That way your 4-season quilt lasts longer and you guarantee good hygiene.
4 seasons duvets are available in various types of materials and sizes. For example, the exterior of the seasons quilt can consist of a synthetic fabric, cotton, satin or a combination of the two.
The filling of the quilt usually consists of two materials, namely hollow fibers and down. The hollow fibers are often developed by the brand itself and can vary greatly per brand and per heat class. The same applies more or less for a down comforter. Other characteristics that need to be watched with down are for example the anti-allergic finish and the animal-friendly way of working.