Summer comforter
A summer duvet is ideal for the warmer months. A cotton summer duvet contains various fine features for a good night's sleep.
32,99

Do you want to sleep well during the warm nights? Get a summer duvet! Thanks to the cotton...

Compare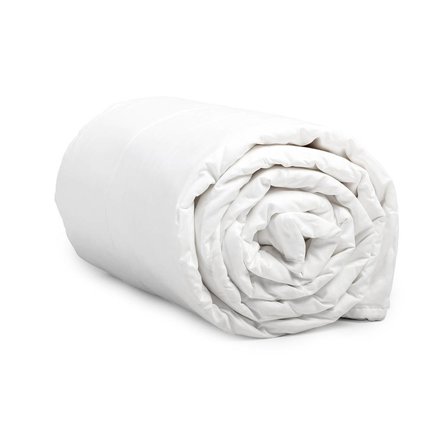 Summer Quilt
Are you looking for a summer duvet? Take a look at our affordable range! At Fine 2 Sleep you can view and order your summer duvet online. In addition to summer duvets, we also offer various other duvets at superior quality. The various types of duvets in our range include: 4 seasons duvets, down comforters, wool duvets and the like. In the summer months it can get pretty hot in the bedroom and especially attic rooms. It will then be transpired earlier, especially under a (too) thick blanket. A duvet, specially developed for the summer then forms a better choice. This prevents excess perspiration. Through the description of this category we hope to give you enough information to order a summer duvet as desired, online. It is also possible, on request, to view and purchase your order at our collection location in Ridderkerk. You can choose from our range, consisting of various sizes.
Cotton Quilt
The summer duvet in our range is machine washable and contains a cotton ticking. The cover of the quilt that holds the filling in place is called the cover. A ticking of 100% cotton has many positive features. For example, cotton is known to be light and airy and therefore very comfortable during the night's rest. In addition, the cotton cover is very well ventilating and has good moisture regulation. Ideal for people who perspire overnight! People who feel hot quickly make a good choice with this summer cotton duvet! To keep the duvet fresh, it is wise to wash it once in a while and beat it up / hang out.
A summer duvet is somewhat thinner than a regular duvet. The big advantage of this is that the temperature below does not rise too high, so you can fall asleep during the summer months. With a summer duvet you wake up fresh in the morning and little transpired during the night's rest. A summer duvet is light and airy and therefore ideal for the warmer months. If you want a duvet that is suitable for all seasons and can be split, it is wise to look at a 4 seasons duvet. We also offer 4 season duvets in various types of materials and price range!
The summer duvet in our range is easy to maintain and wash. In addition, it consists of cotton, a 100% vegetable and therefore natural material. It is suitable for people with dust mite allergies and perfect for warm summer nights. This summer duvet we offer at a very competitive price in several sizes! The sizes we have available are described below and are available for 1 person, 2 person and twin beds! Choose from the following sizes:
140 x 200
140 x 220
200 x 200
200 x 220
240 x 200
240 x 220
A summer cotton duvet is the ideal match during hot summer nights! A summer duvet ensures a cool night's sleep and optimal sleeping comfort with warm weather.