Wool Duvet
The wool duvets in this category are wonderfully warm, of good quality and competitively priced. Ideal for a good night's rest! There is also the choice between the single variant and the 4 seasons variant.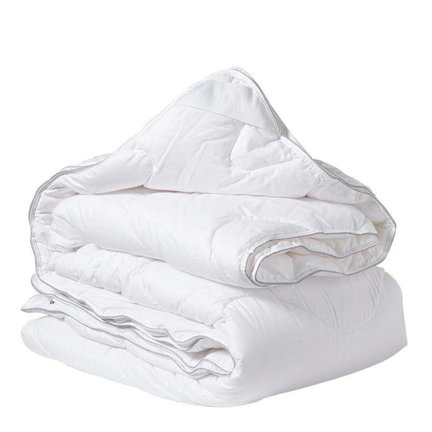 Wool Duvet
To ensure optimal sleeping comfort, choosing the right duvet is also important. At Fine 2 Sleep we have an extensive range of duvets from which a choice can be made. In our assortment you will find the following types of duvets: single, 4 seasons, down, cotton, anti-allergic, summer and of course wool. The type of duvet and the choice of materials is very different per person. We provide you with information about a wool duvet below, to help you make the right choice.
Heat class
Each duvet has its own heat class, which indicates the 'heat' of the duvet. A total of four classes can be distinguished. A comforter with heat class 1 is the warmest duvet type and ideal for cold attic and bedrooms. For people who quickly get cold in the night, this is also ideal! Class 2 is suitable for the whole year and can be used by people who are not too cold and not too hot during sleep. Heat class 3 is suitable for warm bedrooms and offers average heat. Finally, there is heat class 4, the thinnest type. A duvet with this heat class is perfect for warm summer nights.
Only woolen quilt
In our woolen duvet range you will also find some duvets. A single duvet exists, as the name says, in one piece. A single wool quilt often consists of an average heat class or heat class 1 for the winter. A single wool duvet feels light and airy and is available in a variety of sizes.
4 seasons wool duvet
A four-season quilt consists of two separate parts. These parts are often connected to each other by means of push-buttons to make one quilt and to create heat class 1. A four seasons duvet wool consists of a part with heat class 3 (spring / autumn) and a part with heat class 4 (summer). An ideal duvet type so that you can use it all year round.
Material
The wool duvets that we offer have a filling of 100% virgin wool. The cover varies per product and can consist of twill micro, percale cotton and 100% cotton. This is clearly indicated for every product. A cover is a cover that holds the filling of the quilt in place. In addition to the product, you can also make a suitable choice here! If you have any questions after reading the above text? Please contact us! The sizes that we offer include are described below. The wool duvets are available in various sizes. In addition to the product, you can also make a suitable choice here! The sizes that we offer include are described below.
Sizes:
140 x 200
140 x 220
200 x 200
200 x 220
240 x 200
240 x 220
260 x 220
In short; we offer a wide choice within the category wool duvet, so there is a suitable duvet to everyone's wishes / needs!