Double Woven Jersey Fitted Sheets
Double woven jersey fitted sheets contain extra heavy quality. The fitted sheets are double-woven and therefore very stretchable. They are suitable for both normal mattresses and extra long mattresses up to 220 cm long, partly due to the 40 cm corner heig
22,95

The white jersey fitted sheet made of 100% cotton is double woven and therefore extra thic...

Compare

22,95

The pink jersey fitted sheet made of 100% cotton is double woven and therefore extra thick...

Compare

22,95

The jersey fitted sheet blue made of 100% cotton is double woven and therefore extra thick...

Compare

22,95

The jersey fitted sheet bordeaux made of 100% cotton is double woven and therefore extra t...

Compare

Zeer voordelige prijzen
30 dagen retourrecht
Veilig & achteraf betalen

22,95

The jersey fitted sheets green from 100% cotton are double woven and therefore extra thick...

Compare

22,95

The red jersey fitted sheet made of 100% cotton is double woven and therefore extra thick....

Compare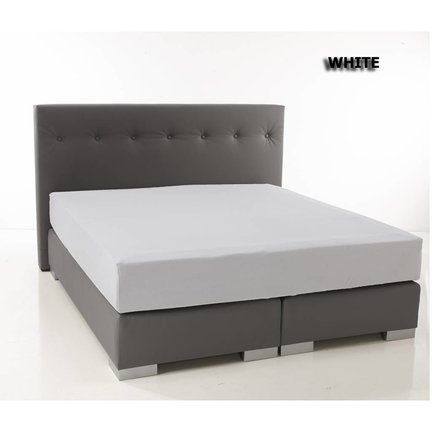 Double Jersey fitted sheet
In the assortment of Fine 2 Sleep there is also the choice of a double jersey fitted sheet and a jersey fitted sheet. We have written out the difference between the two fitted sheets for you. Double jersey can often be recognized by its extra heavy quality, because the fitted sheets are double-thick and stretch woven. This also means that they are more durable and more stretchable. Moreover, they are also suitable for both normal mattresses and extra long mattresses up to 220 cm long, partly due to the corner height of 40 cm.
A double fitted sheet is a fitted sheet of double woven jersey, which makes the fitted sheet softer and stronger. In addition, it ensures that the moisture absorption is better than with a normal jersey fitted sheet. By properly absorbing perspiration moisture, the lifespan of a mattress increases. Double woven jersey fitted sheets are made of 100% cotton and naturally also contain all the fine features of this material. Cotton is known for its strength, durability, absorption and softness. It is a material that breathes well and is moisturizing.
A double jersey fitted sheet has a grammage of 220 gr / m², this means a very thick fitted sheet, about twice as thick as a normal jersey fitted sheet. In the case of double jersey, high-quality yarn is used during weaving, so that the color remains beautiful longer and the fitted sheet lasts longer. Through an interlock machine, the cotton is double knitted and obtains its density. By obtaining this density, dust mites have no chance! It is therefore an excellent fitted sheet for people with an allergy to dust mites. The fitted sheets double jersey are provided with elastic around the edges, this makes it a perfect fit and the fitted sheet stays in place. A double jersey fitted sheet can also easily be placed over a topper due to its 40 cm corner height.
Characteristics
Some features of double woven jersey fitted sheets in our range are:
Material: double woven fitted sheet of 100% cotton (stretch), by a special interlock machine
Sturdy
Sustainable
Soft, due to the special weave and the use of cotton
Colorfast, even after several washes
Angle height: 40 cm
Color: dark blue, yellow, turquoise, green, blue, burgundy, anthracite, cream, white, taupe, red, purple, gray, brown, black
Iron-free and wrinkle-repairing, by finishing the fitted sheet with an easy care treatment
Suitable for people with a dust mite allergy
Long lifespan
Breathable and ventilating
Sizes
80/90/100 x 200/220
140 x 200/220 & 160 x 200/220
180 x 200/230 & 200 x 200/230
Jersey fitted sheet
A regular jersey fitted sheet has different characteristics than a double woven fitted sheet. A jersey fitted sheet is less thick, slightly less strong and also less soft than the double woven version. The quality of a double woven fitted sheet is higher than with a regular jersey fitted sheet. A jersey fitted sheet, on the other hand, is obviously more economical. Jersey fitted sheets are made of 100% cotton fibers and obtain elasticity through the way of weaving. In this case, as it were, elasticity is released into the fabric. It makes the material very suitable for fitted sheets because it stays nicely tight around the mattress, without creases. The characteristics of a normal jersey fitted sheet and double-woven jersey fitted sheet are almost the same. However, a double jersey fitted sheet of higher quality, it lasts longer and fits a mattress including topper!